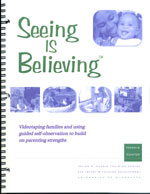 Originally developed as part of the STEEP™ program, Seeing is Believing® is a unique practice that helps parents increase their sensitivity and responsiveness to their babies' cues by using a videotaping strategy.
Through filming and guided viewing, Seeing is Believing gives parents a chance to see, from the camera's point of view, what happens between them and their baby.
Using videotaping promotes parents' self-observation and reinforces their sensitivity to their babies. We urge parents to see their own strengths and those of their babies, and encourage them to consider their infant's perspective as they interact. The parent keeps the video as a documented memory of the baby's development.
Through Seeing is Believing, the home visitor or facilitator is trained to:
videotape parent and baby for a short time as they go about their everyday activities (e.g., feeding, bathing, playing);
watch the tape together with the parent;
guide the parent in recognizing the unique characteristics of the baby; and
enhance the parent's ability to read and respond to the baby's cues.
This manual and practice DVD helps trainers learn and practice the Seeing is Believing strategy.
Attend a Seeing is Believing in-person training
Want to learn more about Seeing is Believing? Request or attend an in-person training.
Related subjects
Tags: Seeing is Believing, STEEP