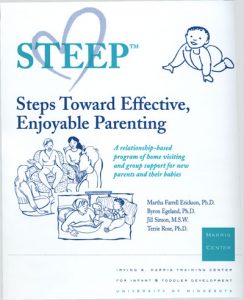 Many parents today live in stressful circumstances. They face many challenges as they care for their infants, often with little support. They may be struggling to come to grips with an abusive past. They are families at risk.
As a service provider working with these parents and children, you strive daily to provide the most effective support possible. We understand that you need practical and effective prevention and intervention techniques to help your families succeed.
To help you, we are making available the comprehensive facilitators' guide for the award winning STEEP™ program (Steps Toward Effective, Enjoyable Parenting). The STEEP program is based on attachment theory and is grounded in more than 30 years of longitudinal research on risk and resilience conducted at the University of Minnesota's Institute of Child Development.
Developed in 1986 by Drs. Byron Egeland and Martha Farrell Erickson, STEEP reaches out to parents even before their first child is born. STEEP works on the premise that a secure attachment between parent and infant establishes ongoing patterns of healthy interaction. A secure parent-child attachment lays the foundation for later competence and well-being.
Through home visits and group sessions, STEEP facilitators work alongside parents to help them understand their child's development. Parents learn to respond sensitively and predictably to their child's needs, and to make decisions that ensure a safe and supportive environment for the whole family.
Attend a STEEP in-person training
Want to learn more about STEEP? Request or attend an in-person training.
Related subjects
Tags: Seeing is Believing, STEEP