The Children's Theatre Company, a Twin Cities-based arts organization, offers a program for preschool classrooms called Creative Play. Teaching Artists (TAs) work with young children from birth to 5 years old using trauma-informed practices. Each session with the TAs lasts around 20 to 30 minutes and involves imaginative play, mindfulness activities, and physical movement. These exercises encourage and empower children to name and explore emotions, make decisions, and share ideas.
Because of the COVID-19 pandemic, Creative Play was delivered in a virtual format for the first time in the spring of 2021. The Children's Theatre Company has an ongoing research partnership with CEED, and they engaged with our staff to evaluate the effectiveness of the new format. Research Associate Alyssa Meuwissen, PhD, and Research Assistant Meredith Reese observed virtual workshops, interviewed TAs, and surveyed preschool staff about their perception of the program's effectiveness.
Preschool staff did feel that children remained at least moderately engaged in the three main components of Creative Play: emotional literacy, mindfulness activities, and imaginative play. However, Meuwissen and Reese heard from classroom staff that when children lost focus during virtual Creative Play sessions, it was harder for TAs to re-engage them. Rather, classroom staff intervened to redirect the children's attention.
Meuwissen brought undergraduate student Rachel Deng onto the project to analyze the first round of data that had been collected. Deng also co-developed a research poster which she presented with Meuwissen and Reese at CEHD Research Day on March 24, 2022. Deng is a senior at UMN majoring in theater arts and early childhood education.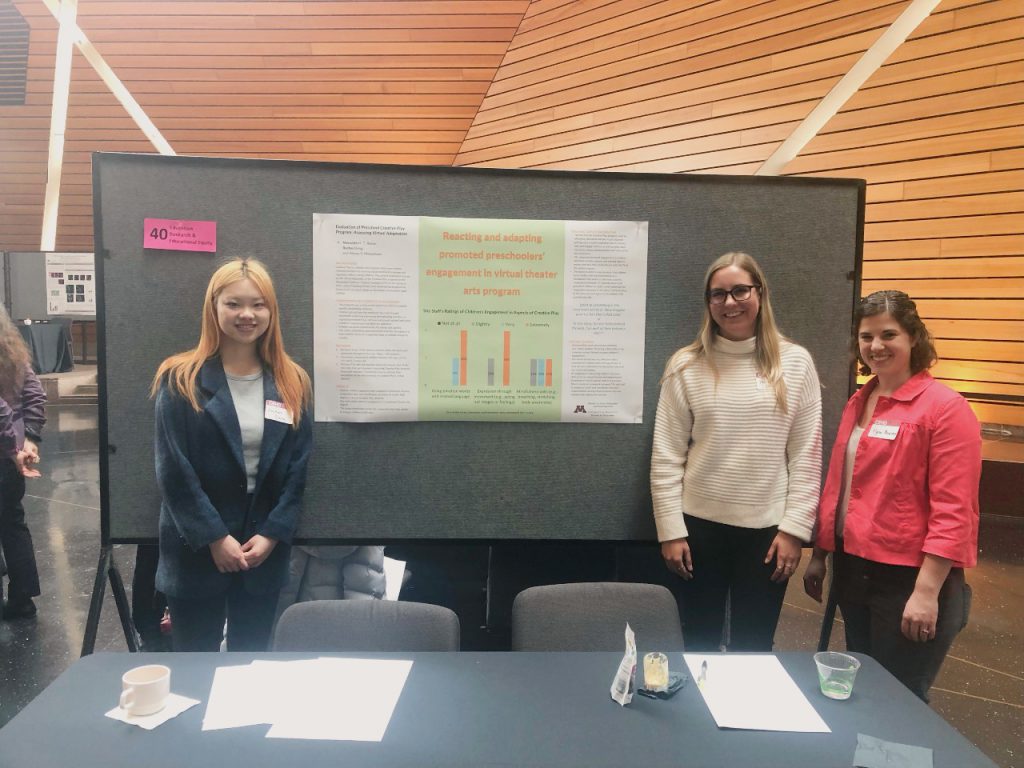 "This project has been a really great opportunity for me because of my joint interest in two very distinct major fields," says Deng. She added that working on this research project gave her a glimpse of how she might integrate her two areas of interest in further research or even in her career.
"Part of my passion includes using dance and theater arts as therapeutic methods for children and youth," Deng says.
Meuwissen and Reese will collect more data on the effectiveness of Creative Play in its virtual format when the program recommences in the fall. Stay tuned for an update on their findings!
Related subjects
Tags: child care, covid-19, early childhood education, infant and early childhood mental health, staff and faculty