In our latest staff Q & A, Hannah Riddle, TARSS Project Manager, shares her goals for the Trainer and RBPD Specialist Support (TARSS) program and her reflections on the importance of early childhood.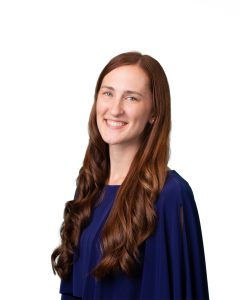 What was the educational and career journey that led to your current role at CEED?
I've worked in the early childhood arena for about a decade. I've held a variety of positions including educator, center director, trainer, and adjunct faculty. I joined CEED in 2019 as part of the Early Childhood Program Quality team, conducting Parent Aware classroom observations using the CLASS® tool. At that time, I was a newly minted mom transitioning out of an operations role at SolBe Learning, an early childhood program that I co-founded in Boston, MA.
You recently took on a new position at CEED with the TARSS program. Can you talk a bit about your role as TARSS Project Manager.
I'm thrilled to be in the position to serve the trainer and relationship-based professional development (RBPD) community. I've been a trainer for the past seven years. I train in English and Spanish and have conducted trainings in most parts of the state. I believe that I can bring insight into this work that can strengthen the offerings of the TARSS program.
My role includes providing support to trainers and RBPD specialists who reach out to us via phone or email. Because this project is new at CEED, we are currently creating systems to support the workflow, especially as more team members join us. This means that I also do a lot of organizing and strategizing around what we need to accomplish in the next weeks, months, and years.
What is the difference between the work of trainers and the work of RBPD specialists?
Trainers offer classes to early education professionals on a variety of topics that are outlined in Minnesota's Knowledge and Competency Framework. These classes serve to give educators new information, teach new skills, and help meet licensing and other requirements. RBPD specialists are coaches and mentors who have sustained relationships with educators. Through coaching and mentoring sessions, RBPD specialists support educators in reflecting on their teaching practice as well as identifying their strengths and opportunities for growth. CEED has expertise in providing training and RBPD support, so our team understands what both roles entail. In addition, CEED has evaluation expertise which can help guide the direction and development of supports to the field.
Trainers and RBPD specialists have a uniquely powerful role in the field of early education. Many early educators come into the field with little formal preparation for the complicated work that they do. Trainers and RBPD specialists are often able to introduce insights and knowledge that empower educators and facilitate their growth. My dream is that the TARSS program aids trainers and RBPD specialists in claiming that power and seeing their impact.
What do you wish more people knew about early childhood?
I wish more people were well-informed about the society-wide benefits of collectively investing in our children. There is magic that happens when children are in truly high-quality environments—and the benefits of those early experiences ripple through society. So often, I feel that our national conversation misses or minimizes the importance of the early years. Despite that, research in the fields of both neuroscience and economics supports the idea that there is no better time than early childhood to invest resources in a human being.
Did becoming a parent change your perception of the early childhood field?
Becoming a parent hasn't shifted my perception of the field. Instead, it has helped me to better empathize with the issues that face families—for example, finding affordable child care or navigating the differences between how we raise our children and the expectations of child care programs.
What are some of your interests and hobbies outside of work?
I spend a lot of time with my little one, Bruno. I also love to bake. I make tequeños (a Venezuelan snack) and some type of dessert weekly. It could be chocolate chip cookies, banana muffins, brownies, cheesecake, or tiramisu—YUM!
Related subjects
Tags: child care, early childhood education, parents and caregivers, staff and faculty, TARSS