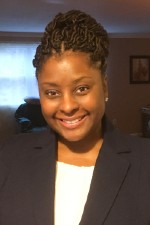 We're excited to share a Q & A with Tanika Eaves, PhD, LCSW, IMH-E®, assistant professor in the social work program at Fairfield University. Eaves is the author of our brand-new self-study module: A Trail Guide for Your Journey: Receiving Reflective Supervision. Here, she shares her thoughts on balancing the theory and practice of reflective supervision, on embracing the emotions that arise when working with young children, and on valuing the journey—rather than the destination.
Who do you see as the audience of this module? Who do you think would benefit from enrolling in this module?
TE: A Trail Guide for Your Journey is intended for infant and early childhood professionals who are new to reflective supervision and may be at the beginning of their journey in terms of experiencing a reflective supervisory relationship. The module would be beneficial for practitioners who are beginning to learn about reflective supervision and for supervisors who are beginning training in reflective supervision.
What reflections or realizations did you have while building the content for this module?
As a college instructor, I was accustomed to developing a semester's worth of content for online courses. Creating a module intended to last a maximum of three hours challenged me to focus on the essentials and pare down module content.
I also felt the need to make content and material as engaging and digestible as possible for the intended audiences. Although it's important for participants to understand the theory underlying reflective supervision, it's equally important to illustrate its practical value. It was a refreshing shift for me as a reflective supervisor to use video, meditation, and multi-modal strategies to connect theory with practice. I also found myself being especially attentive to emotional content and the common stressors of infant and early childhood work. I wanted to normalize feelings that perhaps as practitioners we may unconsciously suppress.
What drew you to your field of study and the kind of work that you do?
I have always been interested in human behavior and development. I studied psychology as an undergraduate with an interest in neuroscience. After spending a semester volunteering for Head Start as part of a service learning course in child psychology, I became intrigued with early childhood development and influencing factors.
My first job after college as an infant/toddler teacher in a corporate child care center. Two years later, I began my master's in social work at Rutgers University and was determined to integrate early childhood development with social work. While at Rutgers, I completed an interdisciplinary certificate program as an infant-child specialist with the educational psychology department to complement my MSW. My work as a social worker has always been specialized to serve the needs of infants, toddlers, young children, and families as a therapist; as a broker of services and resources; and as an advocate for changes in policies, practices, and service delivery systems that reflect the challenges facing families transitioning into parenthood in the 21st century.
In my second career as a faculty member and emerging researcher, I still work on behalf of young children and families. I strive to produce scholarship that both elevates the experiences of practitioners working with this population and challenges service delivery systems to enact positive change and advance equity and social justice for all young children and families.
What are the top three takeaways that you hope students come away with from this module?
Developing reflective practice is a journey and a process with no final destination;
The reflective supervisory relationship can ground our practice work and make us better practitioners; and
Accepting and embracing emotional complexity and the continuum of feelings associated with working with young children and families is essential. This must be supported in the workplace as well as in the supervisory relationship.
Are there any additional thoughts you would like to share?
It was an incredible privilege to develop this module and a great reminder that I am still learning and moving along in my own journey. I hope that participants in this module feel permission to "not know," be curious, and make mistakes along their journey.
Related subjects
Tags: infant and early childhood mental health, professional development, reflective practice, Reflective Practice Center, reflective supervision, staff and faculty