How providers can build reflective relationships with families
The Center for Early Education and Development hosted the 2019 Minnesota Early Intervention Summer Institute on June 25 – 26. (Repeat participants usually call it the Summer Institute for short!)
Each year, early childhood professionals from around the state gather at St John's University in Collegeville to immerse themselves in the latest research and learn new practical strategies for working with young children and their families. Participants can choose from eight two-day tracks or "sessions," each exploring a different topic. We'll be sharing takeaways from each of those sessions over the coming weeks.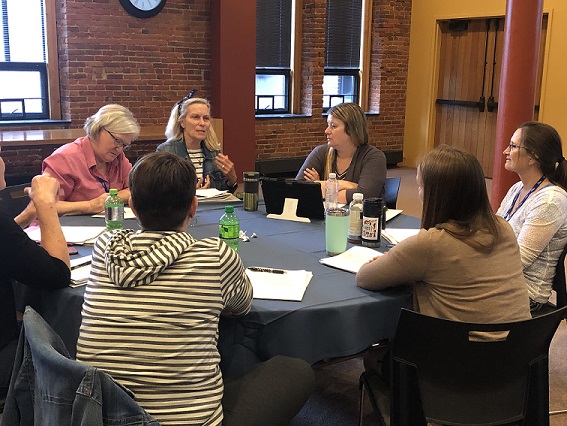 Today we're highlighting Tackling the Tough Stuff: Supporting Families at Risk Through Reflection and Relationship, presented by Angela M. Tomlin, PhD, HSPP, IMH-E, and Stephan Viehweg, LCSW, ACSW, IMHE (IV). Tomlin and Viehweg coauthored the book Tackling the Tough Stuff: A Home Visitor's Guide to Supporting Families at Risk (Brookes Publishing).
Explore more professional development opportunities from the Center for Early Education and Development.
Building relationships with parents and caregivers
Supporting families is inseparable from forming relationships. Relationships are where growth and learning occurs. Parents and caregivers who feel trust and support from a provider are more likely to follow through on plans they make with the provider. They are more engaged with their children and more likely to fulfill their children's needs. By supporting the parents, you are supporting the children.
The basics of getting off to a good start with a parent or caregiver include:
Show an active interest in the parent and the parent's needs
Use active listening to really understand what a parent is telling you
Be consistent and reliable—someone a parent can count on
When we show up for parents and caregivers like this, we're modeling an approach they can use with their child:
They can be interested and attentive to their baby's needs and signals
They can read their baby's signals more accurately
They can respond to signals in an appropriate, timely, and reliable way
Establishing a relationship with a family is, of course, easier said than done. Some families, for a variety of reasons, are hard to connect with. Yet Tomlin and Viehweg remind us that the families who are the hardest to connect with are those that need us the most.
Using the PAUSE framework
Tomlin and Viehweg created a problem-solving method they call the PAUSE framework, which can help providers build relationships with children and families during their everyday interactions.

The PAUSE framework allows providers and parents or caregivers to collaborate on positive ways to address challenging interactions with children—for example, when a parent is upset by a toddler's tantrum.
Perceive: Explore what is happening. Watch and listen as an interaction unfolds.
Ask: Clarify what is happening. Ask the parent or caregiver open-ended questions.
Understand: Explore why it is happening. In conversation with the family members, think about possible explanations for the situation.
Strategize and Evaluate: Identify possible responses or solutions. What are some things the parent or caregiver could try? How and when will they know if the plan is working?
The PAUSE process is cyclical, and with each repetition a provider may deepen their relationship with a family. Not only that, but they are modeling a reflective approach to interactions that caregivers may use with children.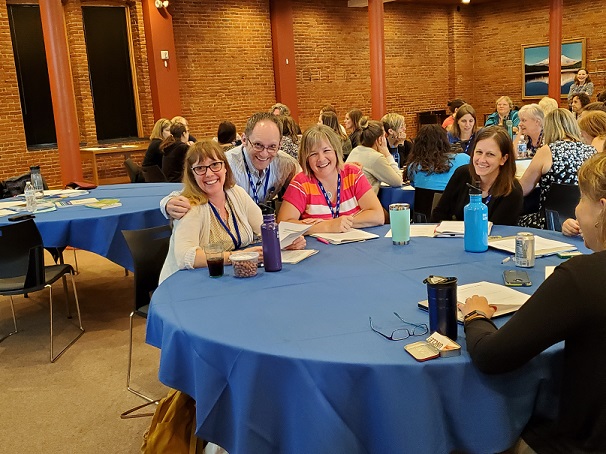 The Center for Early Education and Development offers a short online Introduction to Reflective Supervision/Consultation (enrollment is open now; the course starts September 9, 2019) as well as a range of relevant online courses for early childhood practitioners.
Thanks to the presenters, the participants, and volunteers Shonna Gnahn and Jessie Lindberg! Thanks also to the Minnesota Department of Education's Division of Early Childhood Special Education—sponsors of the Summer Institute for the past 36 years! Stay tuned for more highlights from the 2019 Summer Institute.
Related subjects
Tags: challenging behaviors, child care, early childhood education, infant and early childhood mental health, Summer Institute