What are Training of Trainers opportunities?
The Minnesota Department of Human Services (DHS) creates trainings for Minnesota's early childhood professionals. These DHS-owned trainings offer early childhood educators and providers across the state opportunities to build their skills and knowledge in order to better care for children. In addition, these trainings help people meet the required professional development hours for licensing and participation in Parent Aware.
TARSS hosts Training of Trainer (TOT) opportunities for approved trainers in Minnesota to learn to deliver DHS-owned trainings. Approved trainers in Minnesota must apply to attend TOTs. By completing TOTs, trainers can become approved to facilitate DHS-owned trainings.
View the TOT delivery agreement for DHS trainings.
Scholarships
We're pleased to announce that we have a limited number of spots in our Trainer of Trainer trainings at a scholarship rate of $25. If you are interested in applying for a scholarship for these trainings, please email tarss@umn.edu for the application.
Application process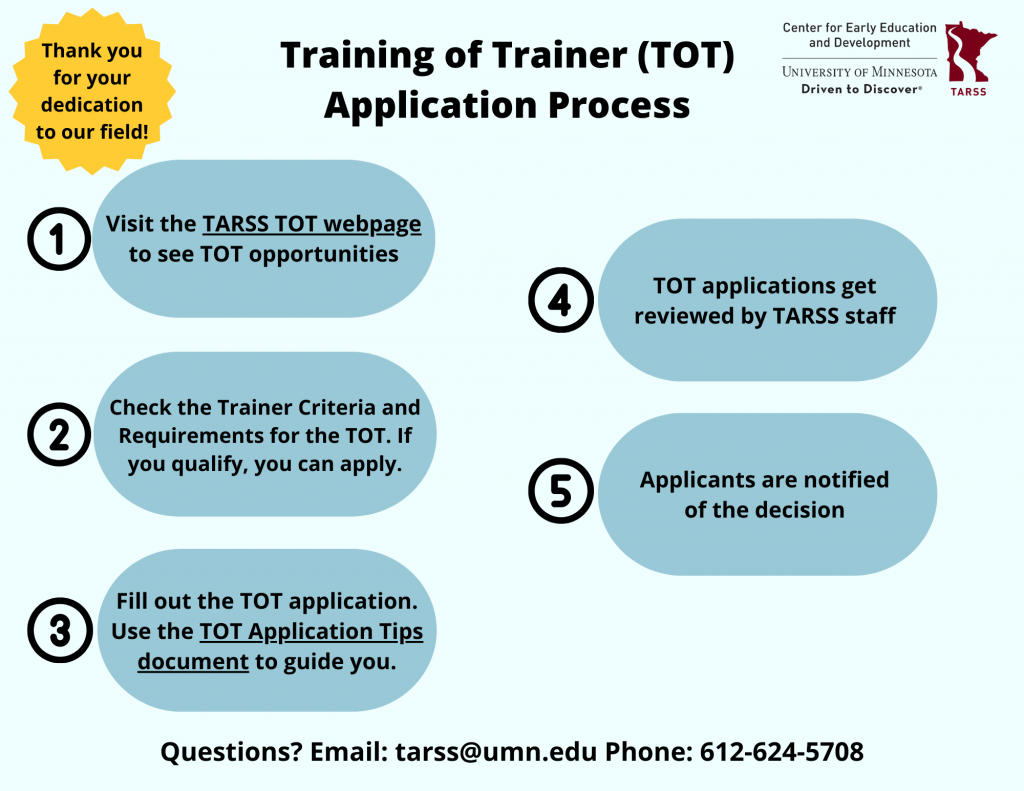 View our TOT Application Tips document to help with your application!
Upcoming TOTs
Young Children with Developmental Delays
Dates of TOT: October 4 – October 22, 2022
Zoom sessions on October 11 and October 18 from 7 p.m. – 7:45 p.m.
This 6-hour TOT will prepare trainers to teach the Young Children with Developmental Delays training, a 4-hour in-person class. Trainers must complete the TOT application and be accepted to register for this event. Before applying, view the Trainer Criteria and Requirements. Don't forget to download the TOT Application Tips document to guide your application.
Important dates
Application deadline: September 9, 2022
Notification date: September 16, 2022
Registration and payment deadline: September 21, 2022
Questions?
Email tarss@umn.edu or call 612-624-5708.