What are Training of Trainers opportunities?
The Minnesota Department of Human Services (DHS) creates trainings for Minnesota's early childhood professionals. These DHS-owned trainings offer early childhood educators and providers across the state opportunities to build their skills and knowledge in order to better care for children. In addition, these trainings help people meet the required professional development hours for licensing and participation in Parent Aware.
TARSS hosts Training of Trainer (TOT) opportunities for approved trainers in Minnesota to learn to deliver DHS-owned trainings. Approved trainers in Minnesota must apply to attend TOTs. By completing TOTs, trainers can become approved to facilitate DHS-owned trainings.
View the TOT delivery agreement for DHS trainings.
Scholarships
We're pleased to announce that we have a limited number of spots in our Trainer of Trainer trainings at a scholarship rate of $25. If you are interested in applying for a scholarship for these trainings, please email tarss@umn.edu for the application.
Application process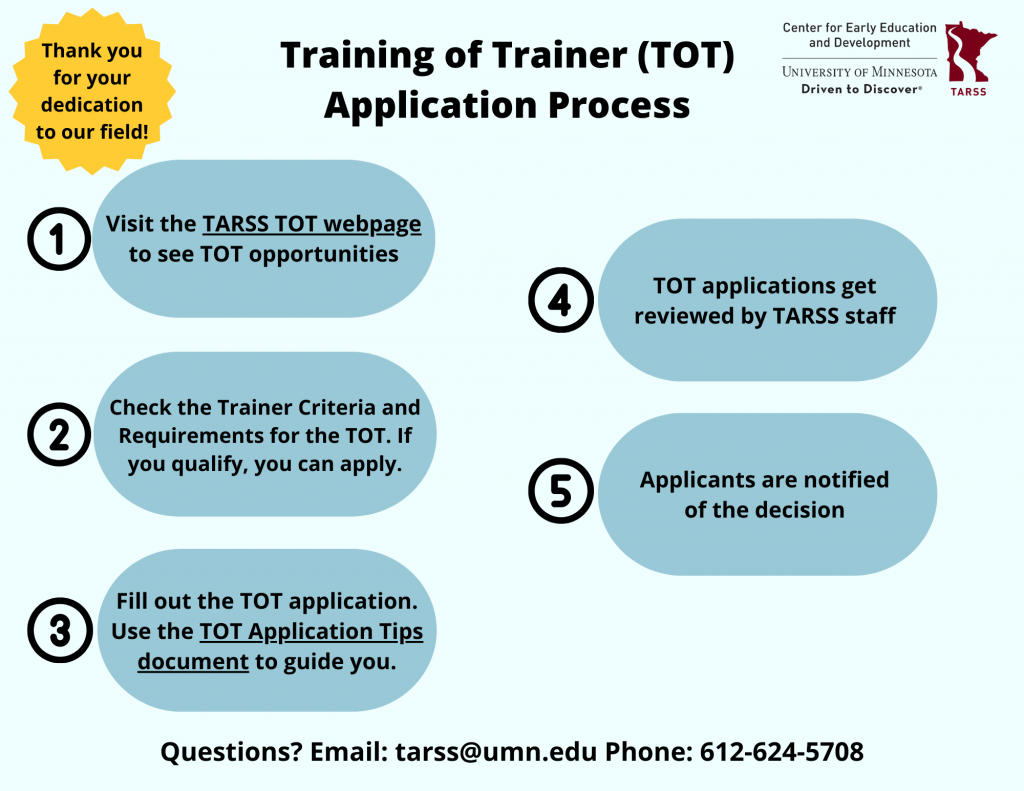 View our TOT Application Tips document to help with your application!
Upcoming TOTs
Minnesota Multicultural Curriculum Series for Early Educators
Instructor: Angèle Sancho Passe
March 24, 2023 through April 15, 2023
Live Zoom chats 7-7:45 p.m. on Wednesdays, March 29, April 5, and April 12
Cost: $80
Maximum capacity: 15
This course is the Train-the-Trainer (TOT) course to prepare trainers to train a series of four courses on related topics to help child care providers to understand the importance and benefits of multiculturalism and multilingualism. This series of courses are an introduction to the concepts of multiculturalism, multilingualism, respect for diversity, and anti-bias education. The TOT course includes information, reflection, and exercises to apply these concepts in the daily work of caring for and teaching young children, as well as of supporting their families.
This TOT is hosted online. It includes three live Zoom chats, weekly discussion boards, and reflection assignments.
Trainers who complete this TOT will be eligible to train on these four courses:
How Culturally Diverse Families Teach Their Children to Succeed (Develop ID 201751)
What the Experts Say: Diversity and Anti-Bias Education (Develop ID 201752)
Teaching and Learning in a Multicultural Environment (Develop ID 201753)
Dual Language Learners (Develop ID 201754)
Required trainer qualifications:
Trainer Level
● Trainer II or higher CLS
Experience
● Professional development training on culture/diversity
Preferred
● College coursework on adult education and anti-bias or anti-racism topics.
● Working in programs with diverse populations or those who need language support.
Important dates
Application deadline: March 15, 2023
Notification date: March 17, 2023
Registration and payment deadline: March 20, 2023
Questions?
Email tarss@umn.edu or call 612-624-5708.