And How Early Childhood Professionals Can Help Kids Get the Benefits
Today's blog post comes from Ariel R. Blanchette, a graduate student in occupational therapy at St Catherine's University. Ariel volunteered at the 2019 MN Early Intervention Summer Institute, helping out with a session on Using Nature-Based Play in Early Childhood Programs to Support Development for All Children. The presenters were Sheila Williams Ridge, Director of the Shirley G. Moore Lab School at the University of Minnesota, and Anna Dutke, Nature Preschool Teacher and Nature Preschool Program Developer with Prior Lake Savage Area Schools. Williams Ridge is the author, with Julie Powers, of the book Nature-based Learning for Young Children: Anytime, Anywhere, on Any Budget.
I had a blast at the Summer Institute as a volunteer this year. It was a great opportunity to learn more about early intervention and early childhood education. In the session that I helped with, I learned about the importance of nature in childhood development and strategized with peers about how to incorporate elements of nature and nature-based play into classroom environments. We discussed a lot over the two days, but really focused on different ways to use nature (leaves, sticks, rocks, treasure hunts, bugs, etc.) to accomplish Individualized Education Plan goals and meet standards for kids in early childhood programs.
Let's zoom out for a moment from sticks and bugs to big questions like why and how. The truth is, as Ridge and Dutke made clear, not all classrooms have four walls. Outside is a classroom and kids engage in learning in a different way outdoors than they are able to indoors. Nature-based play contributes to their social, emotional, and physical health. Nature experiences can also help adults to engage some children whose behavior we may find challenging. It's good for children, it's good for our relationships with them, and it's good for our classrooms as a whole.
The Center for Early Education and Development (CEED) offers several related online courses. This fall, CEED is offering Challenging Behavior in Early Childhood: Bridging Educational and Mental Health Strategies for Child-Specific Interventions. In spring 2020, courses will include Infant/Toddler Movement and Brain Development: Understanding the Critical Connection and Preschooler Movement and Brain Development: Promoting the Critical Connection.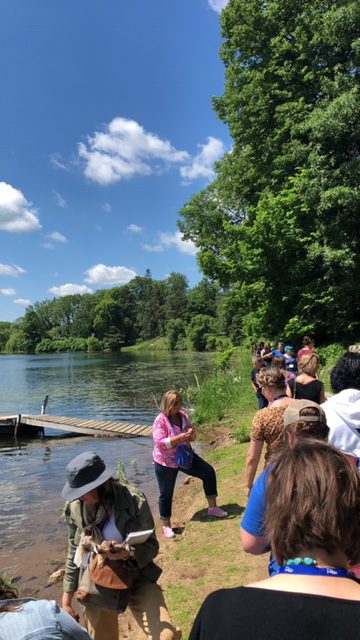 Need more persuasion? I recommend doing the homework that Ridge and Dutke assigned to Summer Institute attendees. (It will take you less than half an hour, and then you will probably want to head outside!) They assigned these three TED talks that shed light on some of the problems that nature-based play just might be a solution to.
The REAL Reason Children Fidget, and What We Can Do about It. Pediatric occupational therapist Angela Hanscom presents an evidence-based TED talk urging us to get outside with kids.
The Decline of Play. Researcher Peter Gray makes the case for free play to support children's social and emotional development.
Nature Is Everywhere. We Just Need to Learn to See It. Environmental writer Emma Marris advocates for us to find nature not just in the wilderness but also in our own neighborhoods—no matter where we live.
I asked Ridge and Dutke what they thought was most important for participants to accomplish during this session. They had two answers:
They wanted participants to have solutions to the challenges of bringing students outside to a natural space (as opposed to a playground).
They wanted participants to develop new ideas on how to incorporate the natural world into their own classrooms.
I asked them what one thing they hoped participants would incorporate in practice tomorrow. They hoped participants would walk away from the Summer Institute understanding the importance of nature-based learning in their classrooms and how to advocate for it.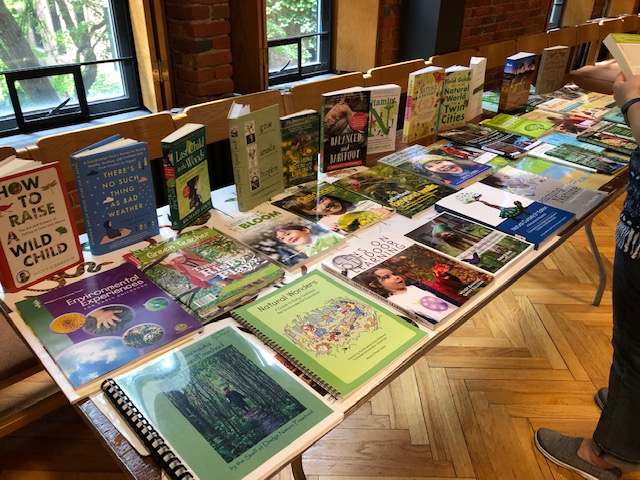 Ridge and Dutke encouraged participants to start small if that is what you (or your program) are ready for. Some resources to get ideas include:
And since we are in Minnesota, here's the National Weather Service's wind chill chart.
Thanks to our presenter, participants, and volunteer Ariel R. Blanchette, and to the Minnesota Department of Education's Division of Early Childhood Special Education—sponsors of the Summer Institute for the past 36 years. Enjoy the outdoors this summer!
Related subjects
Tags: child care, early childhood education, Summer Institute