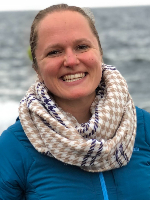 Anna Landes Benz joined CEED as a curriculum specialist in 2023 after working in curriculum development across all subject areas, degree levels, and delivery modalities at St. Mary's University of Minnesota. Her background also includes experience in junior high and high school classrooms as a special education teacher. In this staff Q & A, Landes Benz discusses the differences between in-person and online learning, as well as between traditional students and adult learners. An avid reader, she also shares her most recent reads.
Describe your role at CEED.
ALB: I collaborate on professional development materials and online learning opportunities for professionals who work in the early childhood field. This can take different forms. For example, I am helping to develop CEED's new series of Tip Sheets. I am also collaborating with the Minnesota Department of Education to create online self-study modules for early childhood special education leaders and the personnel at the Minnesota Centers of Excellence.  
Part of my role is ensuring that the modules are as accessible as possible for participants' differing abilities. That entails making documents available in different formats. It also means flexibility in how learners are able to engage with the material–whether they're most comfortable with reading, watching videos, or listening to recordings–and in how they respond to the content. There's a lot of potential for flexibility in self-study modules.
How do you make sure that participants in a self-study module get the knowledge and skills that you want them to get out of it? Is that aspect more challenging online than in-person?
One principle of adult learning that comes into play here is that each learner has their own experience and engagement level. No matter what the course–whether it's a self-study module or a degree program–they have autonomy. Of course, all students have some degree of autonomy–even preschoolers. They can and do choose how they engage with the educator's program. With adult learners, though, there is a greater need to relinquish control, because the participants are going to engage with the information in whatever way they choose.
Is it more challenging from a design perspective? I don't think so. Pre-pandemic, there was a lot of resistance from educators to move from in-person to online asynchronous learning. I think a lot of that resistance came from comparing in-person and asynchronous learning. But having considered this deeply, I've had to conclude that comparing the two is like comparing an apple with a pear. Really, the only similarity between an in-person course and its asynchronous counterpart is that they take place over a certain span of time and share learning objectives. So it's not that creating an online course is more challenging, it's that you have to approach it differently because it is different. The pandemic forced people to move online, whether synchronous or asynchronous, showing them that learning can still happen if you're willing to get creative.
What are some of the things that differentiate in-person and online learning?
To take one example, when in a physical classroom, an instructor relies a lot on performance. Instructors are subject matter experts, so they can answer questions and follow tangents on the fly. They don't necessarily have to come in meticulously prepared for a particular class. For an online asynchronous course, on the other hand, you have to pre-plan and pre-load. You have to anticipate what students are going to struggle with and do a lot of mitigating on the front end. Self-study modules are similar in terms of the amount of front-end work. And like any course, in-person or virtual, they have to evolve with feedback over time.
You mentioned earlier that every learner has some autonomy, even a preschooler. How are adult learners different from children and young adults?
Adults tend to bring to the classroom more professional experiences and life experiences in many different roles. Adult learners also have a lot going on. They typically have more responsibilities than younger people have, so flexibility is key: flexibility in terms of when and how they complete their work, but also understanding from instructors, because life happens. Adult learners have competing priorities, juggling jobs, family, and school, and none of those fit into neat boxes of allocated time.
Another important point when thinking about adult learners is relevance. It's just good teaching practice, no matter what the age level, to avoid assigning unnecessary busy work. All learners appreciate when instructors are very transparent about why a given assignment is required. Adults are certainly no exception. And "why" includes the stated purpose–because the course says so–but it also often includes hidden purposes. A question I often come back to is: "How would this material show up in a participant's work?" As an example, I'm helping create an action planning template for a professional development module. The template is intended to give participants a chance to practice documentation. However, if a participant has a similar form that is required at their place of work, they should by all means use that instead. The learner will be able to take their new skills directly back to their workplace and make immediate changes in their practice. It's important to be really thoughtful about building those additional benefits into the course.
What are some of your hobbies or interests outside of work?
I like being outside, whether that's gardening or playing with my dogs or hiking or biking. I also do a lot with textiles, mainly quilting, but also weaving and other textile arts. I read a lot very broadly. I just read Undrowned: Black Feminist Lessons from Marine Mammals by Alexis Pauline Gumbs, which I recommend approaching as a daily meditation. I'm currently listening to The Nature of the Beast, a mystery by Louise Penny. I love young adult fiction also and am reading a series called Firebird by Claudia Gray. As a way of discovering and sharing my enjoyment of books, I use an app called Storygraph with a wonderful feature called "buddy reads." You and a friend can read the same book and leave comments that won't unlock until you get to that point in the story. That way there are no spoilers, but you also don't forget what you were going to tell each other.
Related subjects