What are Training of Trainers (TOT) opportunities?
The Minnesota Department of Human Services (DHS) maintains a library of over 300 trainings for Minnesota's early childhood professionals. These DHS-owned trainings offer early childhood educators and providers across the state opportunities to build their skills and knowledge in order to better care for children. In addition, these trainings help people meet the required professional development hours for licensing and participation in Parent Aware.
TARSS hosts Training of Trainer (TOT) opportunities for approved trainers in Minnesota to learn to deliver DHS-owned trainings. Approved trainers in Minnesota must apply to attend TOTs. By completing TOTs, trainers can become approved to facilitate DHS-owned trainings.
View the TOT delivery agreement for DHS trainings.
Additional TOT opportunities
Other organizations that offer Develop-approved trainings and occasionally host TOTs. If you are looking for additional TOT opportunities, check with these organizations:
Child Care Aware of Minnesota
Center for Inclusive Child Care
Child Passenger Safety (C.A.R.S.)
Scholarships
We're pleased to announce that we have a limited number of spots in our Trainer of Trainer trainings at a scholarship rate of $25. If you are interested in applying for a scholarship for these trainings, please email tarss@umn.edu for the application.
Application process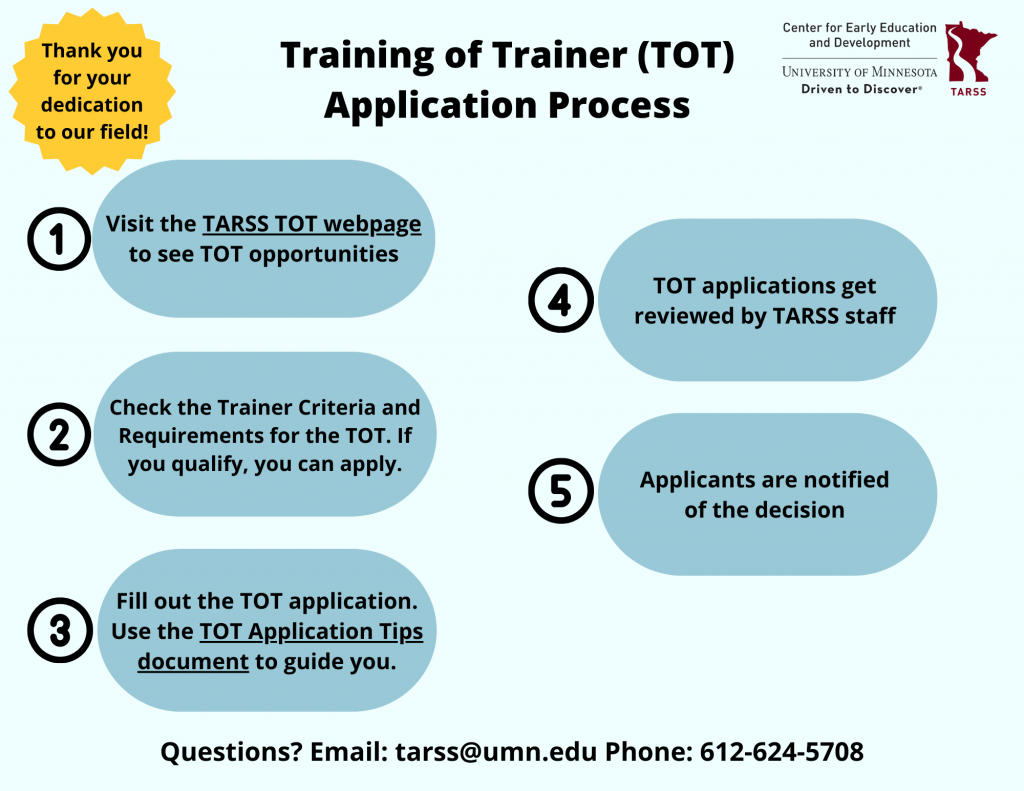 View our TOT Application Tips document to help with your application!
Upcoming TOTs
Subscribe to our newsletter and be the first to know when we release information about new TOTs!
Questions?
Email tarss@umn.edu or call 612-624-5708.