Daisy Corona joined CEED in August 2022 as community program assistant with the TARSS program. In this Q & A, she discusses her role supporting trainers and RBPD specialists throughout Minnesota, including those who speak Spanish. She also talks about her passion for advancing maternal and child health, which inspired her current graduate studies.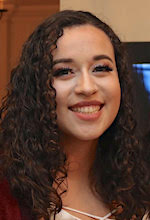 What is the educational and career background that led you to CEED?
I received my bachelor's degree in crime, law, and justice from the University of Iowa. I minored in social work and Spanish. I have always been interested in advocacy work, so I dived into social work, which led me to my first career as a child welfare specialist within the foster care system in my home state of Illinois. In that role, I connected families with diverse backgrounds to the resources they needed to promote healthier environments for children.
I continued to work with families after moving to Minnesota, where I relocated to establish residency and get accustomed to the environment before applying to my current graduate program. I worked at the Minnesota Indian Women's Resource Center as a family spirit home visitor–a parenting coach for members of the native community. I worked with parents, guardians, and anyone else who needed support with children from pregnancy through three years old. The organization focused on tradition, culture, and values, and making sure that at-risk families had everything they needed. My job was to make sure families were in a place where they could move forward once the baby arrived. A big thing I learned from my past work experiences was how to meet people where they are and assist them with getting where they want to be, and that's something that I bring to the table working with trainers and RBPD specialists who are making plans to further their careers.
What is your current degree program?
I am working towards a dual master's degree in public policy and public health with a specialization in maternal and child health policy. I love my classes and feel challenged by them. Right now, I'm learning to visualize data using programs like ARC GIS and Stata. I am looking forward to expanding my knowledge and skills towards political roles and policy development.
What is new to you in your role in the TARSS program?
In my previous jobs, I worked directly with parents and caregivers and their children. I worked with early childhood educators, too, but from the perspective of a case worker making sure a child's needs were met. In my current role as community program assistant, I'm focused on supporting the trainers and RBPD specialists, including those who speak Spanish, who work with child care providers throughout the state. I'm working with trainers in the field through the mentoring process and observing trainings and providing other support as needed for each unique trainer.
I also enjoy the opportunity that my current role gives me to collaborate with colleagues. For example, helping to plan the RBPD Fall Retreat and coordinate the day's agenda has been a lot of fun.
What do you wish more people knew about the TARSS program?
TARSS is an amazing program that supports trainers and RBPD specialists through the early education lens. The opportunities available through this program include all kinds of professional development: coaching and observation, the Trainer Academy, and special events like the annual RBPD Fall Retreat and Trainer and RBPD Specialist Symposium. I also want to make sure that people in the trainer and RBPD community are aware of our great customer service. If they have questions, they can call 612-624-5708 or email us, and we'll get back to them within two business days. These various tools all support the goal of the TARSS program, which is to set up patterns of success in child care and early education throughout the state of Minnesota. 
Where did your passion for supporting families with young children come from?
I grew up with a lot of siblings, and I'm on the younger side, so I babysat my nieces and nephews a lot while their parents worked. I did feel like I had that mothering role at a young age. Also, babies are incredible. They pick things up so quickly, and even when you think they're not paying attention to you, they are learning from you and mimicking you. To me, it's very important to make sure that both moms and babies are being taken care of, and that moms receive the services that they need. Supporting families is at the heart of my studies and also my work in the TARSS program.
What are some of your interests and activities outside of work?
I like learning, so I like to read books. Right now I'm reading a book about care through the stages of pregnancy, what our bodies go through during pregnancy, and what to expect during pregnancy and postpartum. I also like to read philosophical books about how our minds work. I think it's fascinating how our childhood experiences impact us as adults.
I also like to go hiking. I have a dog named Boba Tea who is bossy and likes to be outside even if it's cold. I've explored the outdoors in greater Minnesota, and I've enjoyed getting to know the Twin Cities as well. Lately, I've been visiting local markets and enjoying different cuisines and cultures that the Twin Cities offer. Even though I'm a planner in my professional life, I'm not a planner when it comes to my free time. Instead I say: "Let's see what GPS tells me."
Related subjects