Ashley Midthun, MS, is a program quality manager at CEED, where she has worked for more than eight years. In her work, Midthun uses the Classroom Assessment Scoring System (CLASS®) tool to observe and assess learning environments; she also trains others to use the CLASS®. In addition, she serves as the CLASS® Anchor and conducts monthly webinars for CLASS® Coaches through the Online Learning Community. In this Q & A, she explains how classroom observation works, what sets high-quality learning environments apart, and what parents and professionals should know about classroom quality.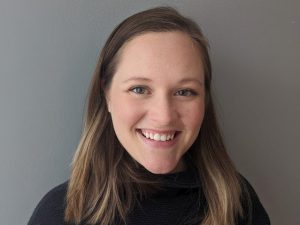 What drew you to the early childhood field?
Ashley Midthun: I have had the joy of working at CEED for the past eight and a half years. During my undergraduate career at Iowa State University, I worked with children in various settings—hospital, child care, shelter, and school. Those experiences solidified my passion for serving children. After working as an Early Head Start teacher, I decided to pursue a dual early childhood teaching licensure and early childhood master of science degree from the University of Wisconsin-Milwaukee. During that phase of my education, I learned how much I love the link between assessment, research, and the quality of care children receive. That's why, upon completing my degree, I looked for a position that encompassed all three components and was fortunate to land at CEED.
Your work involves using the CLASS® tool as an observer and a trainer. Talk a little about how being a classroom observer works. What are you looking for?
The CLASS® is a valid and reliable tool that is used around the world to help determine and enhance classroom quality. "Valid" means that the tool measures what we are intending to measure. "Reliable" means that the tool (and observers who use it) will yield consistent results over time. The CLASS® was created by Robert Pianta, PhD, at the University of Virginia, who incidentally completed his doctorate in psychology at the University of Minnesota. All of our PreK CLASS® observers here at CEED go through extensive training. We learn to use the CLASS® tool in a way that maintains a high level of reliability. We actually exceed the reliability standards set by Teachstone, the company that oversees the CLASS tool.
As a CLASS® observer, I visit classrooms with an objective lens focused on interactions. Specifically, I look for ten dimensions of classroom quality that are set out in the PreK CLASS® tool. I write detailed and specific notes about what I observe in the classroom within a 20-minute cycle. I then spend ten minutes scoring the cycle and repeat the process up to three more times. The CLASS® emphasizes interactions between all the adults in the classroom and the children in their care. Notable interactions include teachers and children communicating in a positive way, teachers asking children to explain their thinking, and children's ideas being embedded into classroom activities.
In my role as a CLASS® trainer, I tailor the information I deliver based on the trainee's role within early childhood education. So, for example, trainings can be tailored to teachers, coaches, administrators, or directors. They can also be generalized to an entire program. They can be customized to meet the specific needs of an individual classroom or program. Training other early childhood professionals to use the CLASS® tool is one of the highlights of my work. The opportunity to share a tool that can improve the classroom environment and have lasting, positive implications for children is such a joy.
What can we learn from teachers who oversee high-quality classrooms?
Interactions matter. Specifically, positive, supportive, encouraging interactions make a difference in children's long-term social-emotional development. Ultimately, these interactions support high-order thinking skills, such as analyzing situations or showing resilience.
Let's look at the first of those skills—analyzing situations. A lot of emphasis is placed on the curriculum and materials used in a classroom, but it's how those things are used that makes a vital difference in children's development. Let's say that blocks are available for children to play with in a particular classroom. If children are never asked what they plan on building with the blocks or how they will build their structure, then the opportunity for high-order thinking is limited. In contrast, think about a teacher who not only has blocks intentionally available but also asks children to brainstorm about how they will use the blocks. By asking children to describe what they need to build their creations, the teacher helps them develop cognitive connections.
Now let's look at the second skill I mentioned—resilience. The relationship between a child and a teacher or provider is the foundation for the child's perseverance in difficult moments. This is an important, but often overlooked, aspect of relationships. When children can rely on teachers' support and guidance, they are more likely to answer challenging questions. That is because they know that even if they get the question wrong, they will not be ridiculed or ignored. Instead, they'll be encouraged to think critically about trying again.
Finally, relationships set the stage for interactions. Children who are welcomed daily with smiles, calm voices, and excitement are better set up to reflect those same experiences back to their peers.
What should parents know about classroom quality?
While having an aesthetically pleasing classroom environment has value, I encourage parents to dive deeper and ask questions about how teachers engage children in learning, how teachers guide children through challenging situations, and what resources are available to ensure children's varied learning styles are recognized and supported. Teachers play a vital role in children's lives. Experiences in early childhood have lasting impacts on children's overall development. Using a valid and reliable assessment tool, such as the CLASS®, is important to ensure that each child receives high-quality care.
What do you like to do outside of work?
I'm currently immersed in early childhood both in my work and in my home life as a parent to a four-year-old, a three-year-old, and a seven-month-old. Our current favorite family activity is pulling out every cushion and pillow in our house. We use them as "stepping stones" to avoid the "lava," a.k.a. the floor! I also love to read, listen to The Office Ladies podcast, and watch past seasons of Survivor with my husband.
Related subjects
Tags: assessment, CLASS™, early childhood education, professional development, program quality, relationship-based teaching, staff and faculty, training